ASC Projects from the 2021 Winter Wildlife Field Days
March 1-14, 2021 – Virtual Event due to Covid Restrictions
History of WWFD
The seventh annual Winter Wildlife Field Day (WWFD) was different this year because of Covid restrictions. It was a two-week event  instead of one day, and it was not in-person. We hope to resume in-person stations this year, so stay tunes.
Jeremy Felty, an OSU undergraduate student, met with ASC's Teri Engbring and a William L. Finley NWR manager to discuss having a fun event to highlight winter animals and habitats. There were many spring, summer, and fall events for children, but little happened in the winter. After more than six months of planning, the first annual Winter Wildlife Field Day was held in March 2015 at Finley NWR! No one knew how many participants would come, and it was an amazing success when 300 visitors took part. ASC has led the event in every successive year, drawing 350 in 2016, 450 in 2017, 800 in 2018, and 700 in 2019! Every year, there are more volunteers, partners, and stations to visit. In 2020 and 2021, Finley National Wildlife Refuge (NWR) staff led the organization effort.
2021 Patch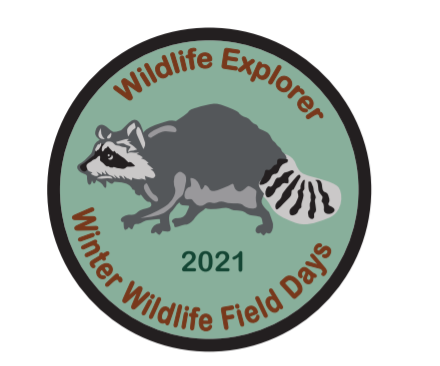 [
Audubon Corvallis Stations
Scavenger Hunt (English)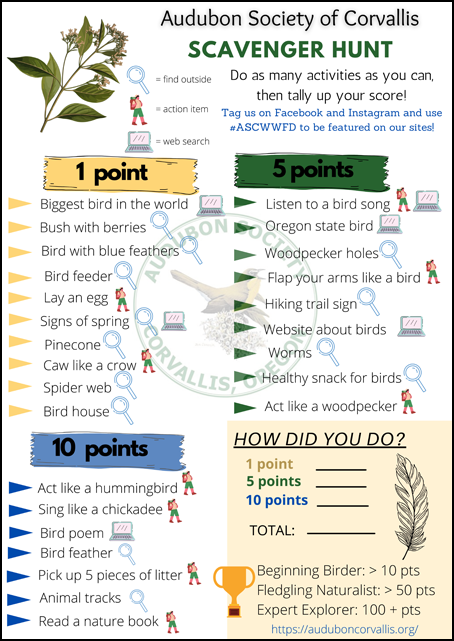 Click here to download this fun activity It will guide your exploration of local trails, your neighborhood, and the internet, in search of nature's treasures.
Busqueda del Tesoro (Español)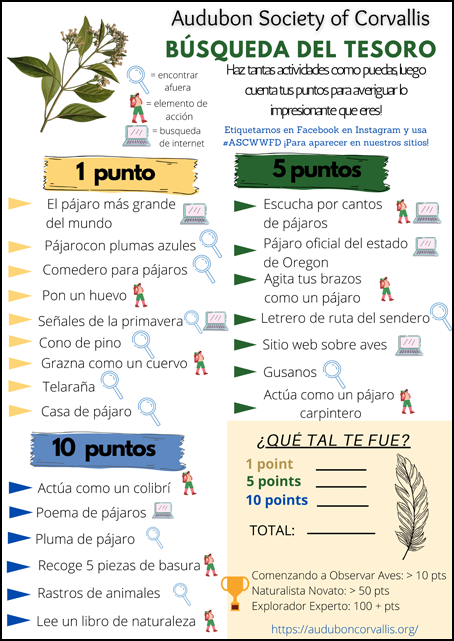 Haga clic aquí para descargar esta divertida actividad. Guiará a su exploración de los senderos locales, su vecindario e internet, en búsqueda de los tesoros de la naturaleza.
Backyard Birds (English/Español)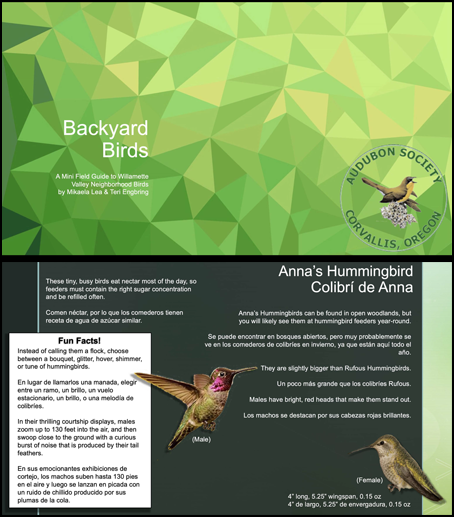 Wow your friends and neighbors with your ability to identify birds in you yard, park, and woods. The first two pages of this mini field guide are shown. There are 19 more of your favorite local birds from Black-capped Chickadees to Acorn Woodpeckers. Photos, fun facts, and basics like size, diet and color are included. Click here. Haga clic aquí.

How to Help Our Feathered Friends (English)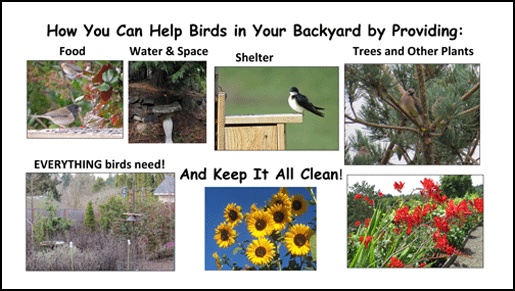 Even doing something small helps birds and other animals. Learn about more birds and habitats with photos and tips on how we all can help local birds survive throughout the year in our own backyards. Click here.
Cómo Ayudar a Nuestros Amigos Emplumados (Español)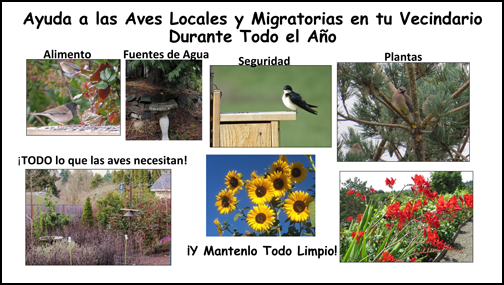 Incluso las pequeñas acciones pueden ayudar a las aves y a otros animales. Aprenda más acerca de las aves y hábitats mediante fotos y consejos sobre cómo todos podemos ayudar a que las aves locales logren sobrevivir durante todo el año en nuestros propios jardines y patios. Haga clic aquí.
Corvallis-Benton County Library Station
Stay at Home Storytime – Playlist 
Join the Youth Services team every week to find new recorded stories, songs, and rhymes. Suitable for kids of all ages!
CBC Library YouTube Channel – Videos
Wildlife Explorer Patches 2015 – 2020