Winter Wildlife Field Days
March 1-14, 2021 – Virtual Event due to Covid Restrictions Contact
In 2014 Jeremy Felty, an OSU undergraduate student, met with ASC's Teri Engbring and a William L. Finley NWR manager to discuss having a fun event to highlight winter animals and habitats. There were many spring, summer, and fall events for children, but little happened in the winter. After more than six months of planning, the first annual Winter Wildlife Field Day was held in March 2015 at Finley NWR! No one knew how many participants would come, and it was an amazing success when 300 visitors took part. ASC has led the event in every successive year, drawing 350 in 2016, 450 in 2017, 800 in 2018, and 700 in 2019! Every year, there are more volunteers, partners, and stations to visit. In 2020, Finley National Wildlife Refuge (NWR) staff led the organization effort.
For information contact Sam Bartling at Finley NWR ( (541) 757-7236).
Home Base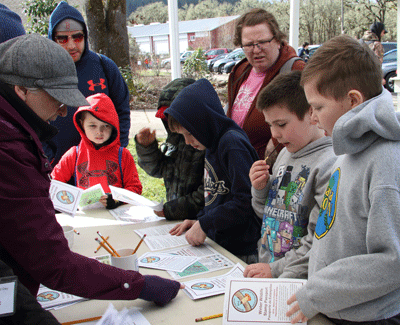 Home Base is the welcome center where all participants check in. ASC Volunteers give each person a 2019 Passport, point out the descriptions of each station, map locations, and instruct them to be sure to get a stamp at each activity. And off they go!! When they return with their stamped passports, participants receive a Winter Wildlife Explorer patch, and the passport is theirs to keep.
2020 Flyer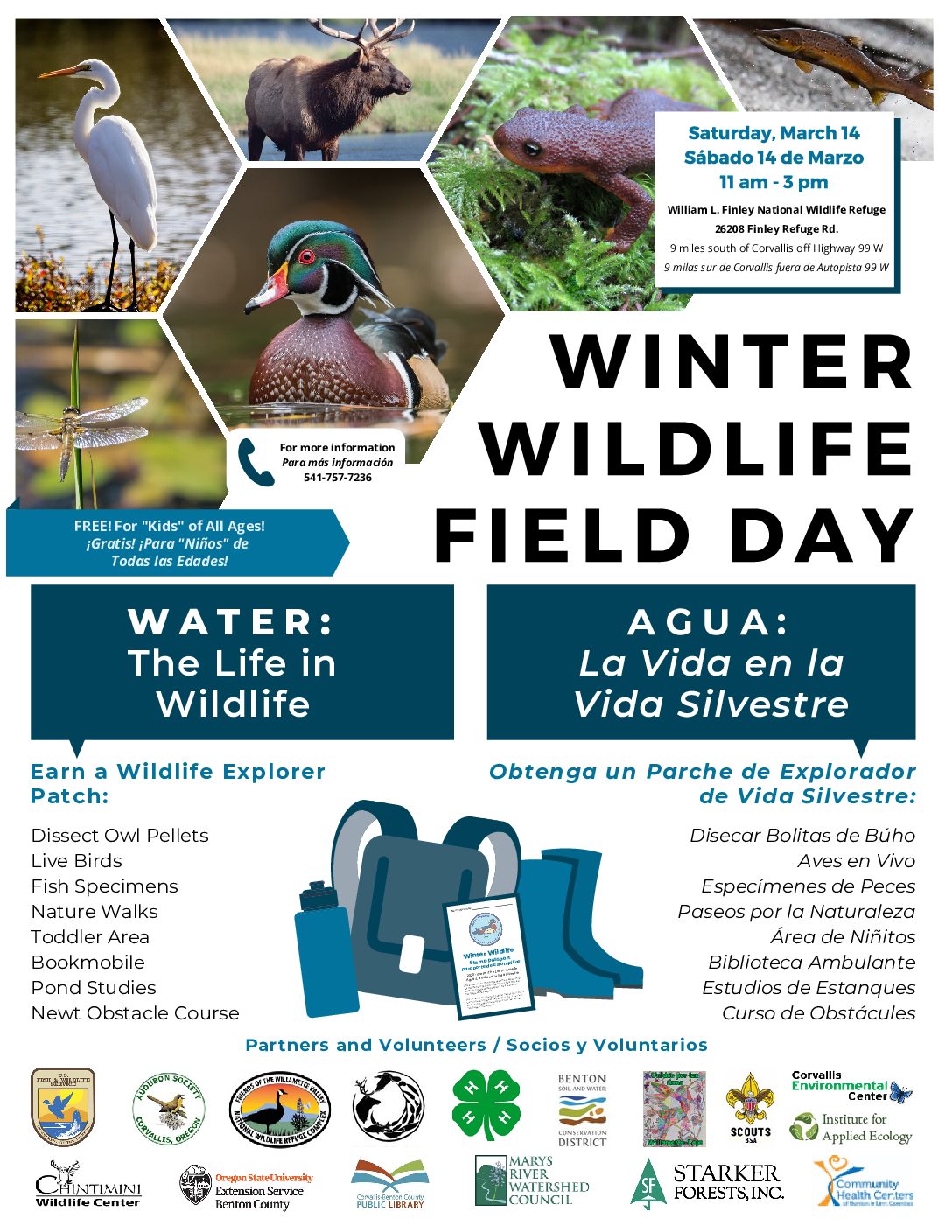 Hundreds of copies of the flyer were posted by local businesses, organizations, and schools a month prior to the event.
Click here to see larger view
2019 Passport (Bilingual)
Wildlife Explorer Patches 2015 – 2019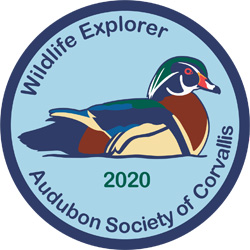 [
Pond Critters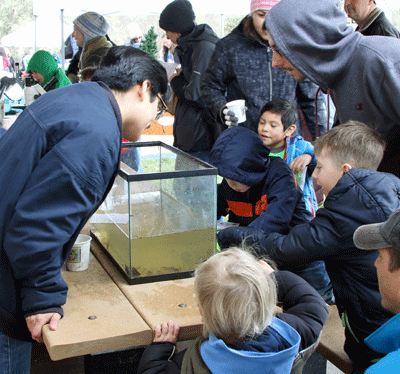 Predators like lions kill and eat their prey. But quiet ponds have their own specific predators outside of the fish that lurk there. Volunteers help children look at aquarium water samples from a nearby pond. When they look closely with a magnifying glass or microscope, they will find key predators like voracious beetles and lightning quick dragonfly larvae. They'll also see what these predators eat – herbivorous stonefly and mayfly larvae. Charts help with identification of each predator.
Who's for Dinner?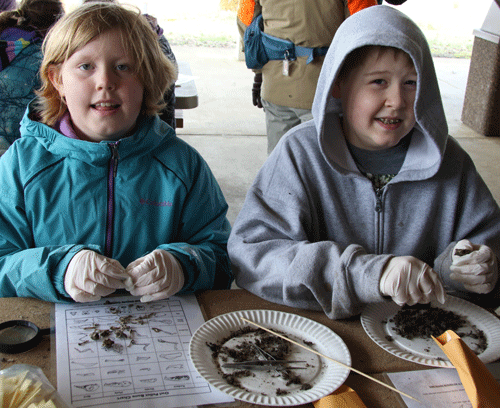 This station is a hit every year with children. Barn Owls are unable to digest the fur and bones of their prey, and they are coughed up once or twice a night as pellets. Typically, pellets contain the remains of 4 – 5 small mammals, like voles, shrews, and sometimes birds. The baked pellets are teased apart to release the bones, which are compared to a chart. Jawbones in particular are key to identifying what species of animal the owl ate.
Pred-ART-tor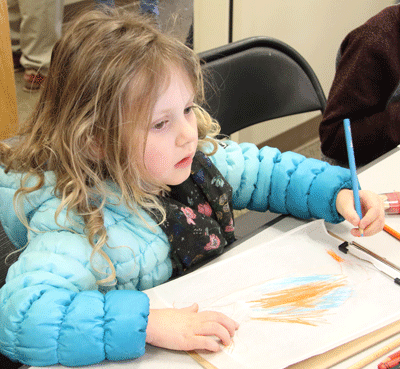 The Art Room is a great place for younger children, and lots of volunteers are available to coach, encourage, and praise each unique creation. Crayons, colored pencils, and markers are available, and the artists take home their work. One part of the art room is a toddler play area, with stuffed, squeaky birds and books.
Camouflage Hides Predators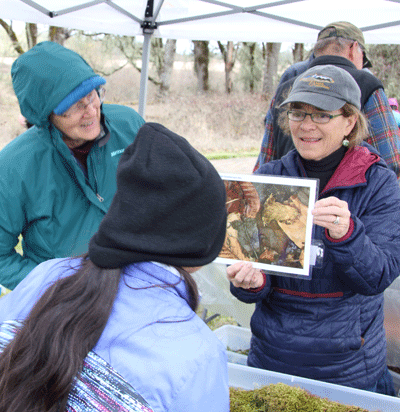 Explore the many ways that camouflage helps animals hide. Participants search pictures to find the hidden animal. They also build their own clay animal and then add moss, leaves, and other natural scraps which will help their animal disappear into the environment! Two types of camouflage are having colors or patterns that blend in to the background, like polar bears and zebras. Another type is mimicry when a non-poisonous animal looks like a poisonous one.
Mini Monsters Live in the Soil!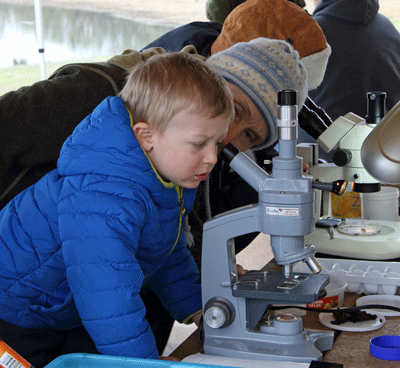 Most people know that earthworms live in the ground, but they are not predators. Instead they feed on decaying grass, leaves, and fruits. But spiders, centipedes, pill bugs, and ants do hunt and kill other animals in the soil. Although some predators are very small, looking at them through a microscope makes you realize how scary they would be if they were bigger! An added bonus is a clever tunnel that students can crawl through to see where different soil animals live.
Step into Nature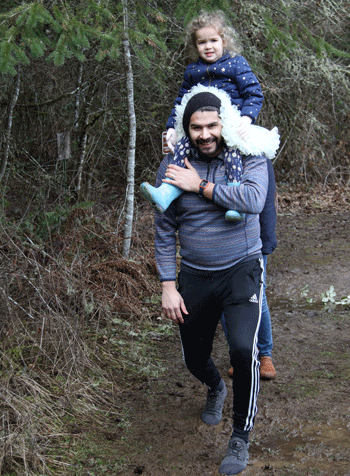 Finley NWR has many wonderful hiking trails. The Homer Campbell Trail is open all year. During Winter Wildlife Field Day, trail guides meet visitors at the trailhead and accompany them along the boardwalk, stopping to point out birds, salamanders, frogs, plants, and lichen. The trail ends at the bird blind in front of Cabell Marsh, where you might see pelicans, bald eagles, ducks, and other wildlife.