Bird Surveys
Counting on the Birds!
Throughout the year there are many organized bird counts in our region. The scope ranges from national to regional, and the format from defined protocols to whatever you can count. These surveys are examples of citizen science, a collaboration between scientific researchers and the general public. When you participate, you help provide data that will contribute to further understanding bird populations, their distribution, and any population changes. Two bird counts are held locally: the Christmas Bird Count (CBC) for the Corvallis area and the North American Migratory Bird Count (NAMC) which covers Benton County.
Christmas Bird Count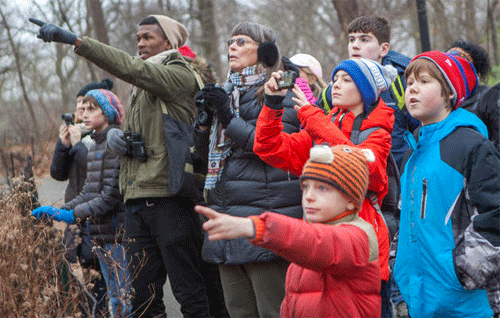 Airlie / Albany: This year's count is Sunday, January 3, 2021 using modified protocols. If new COVID orders are issued before then, please check this site for updated information. No fee is required to participate. The count includes the E.E. Wilson Wildlife Area, Luckiamute State Natural Area, Helmick State Park, and most of the city of Albany. It also extends to parts of the Ankeny National Wildlife Refuge, McDonald-Dunn Forest, and the Lewisburg area. See the map at the link below.  For details on meeting place and times, contact Paul Adamus (541) 231-3095, adamus7(at)comcast.net; Joel Geier (541) 745-5821, joel.geier(at)peak.org.
Corvallis: Unfortunately, our 2020 Corvallis CBC has been canceled due to safety issues during the pandemic. Individual or family counts of birds in our area are welcome on Tuesday, 12/22 or during that week. Each count is for one day. Contact Fred Ramsey to get the data entry form. Check the CBC map (see below) to locate the specific area where you did your count. Fill out the form and email it to Fred Ramsey, or print it, enter your data, and mail it via USPS to Fred at 3550 NW Glen Ridge Place, Corvallis, 97330.
Corvallis CBC History: The first Corvallis CBC was held on December 26, 1912. The second count was not held until 1962, and the CBC had been held every year until this year. The Corvallis CBC is traditionally held on the Tuesday before Christmas.
National Audubon compiled CBC results.
Other Bird Counts
Project Feeder Watch – Cornell Lab of Ornithology winter-long survey of birds that visit feeders in local areas. Send your count to Project FeederWatch to help scientists track long-term trends. Anyone interested in birds can participate.
Great Backyard Bird Count – The next count is Feb. 17 -20, 2020. More than 160,000 people of all ages join the four-day count to create an annual snapshot of the distribution and abundance of birds.
Oregon Black Oystercatcher Project – The goal is to provide new information about Oregon population estimates, nesting success, and human disturbance. The surveys are conducted on the North, Central, and South Coast from May to November.
Birdathon!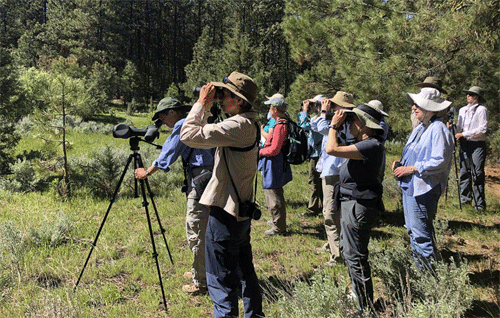 Participating in a birdathon is an excellent way to learn about migratory species, raise funds for environmental projects, add data to a national survey, and have fun. Since 2001, ASC has conducted Birdathons for the benefit of Hesthavn Nature Center. Combined earnings are about $80,000, which has funded a solar composting toilet, museum display cases, new flooring, weather-tight doors and windows, and other projects.
Form a team or go solo on the designated weekend, between April 1 and May 30, which ASC will announce early in the year. This is the peak migration period for birds in the U.S. If you have a conflict in dates, let the coordinator know, and select another weekend during the migration. Ask individuals or organizations to sponsor the team either per species or at a flat rate. Then, bird wherever you are – your backyard, the coast, the mountains, Costa Rica… the sky's the limit (literally)!
ASC Birdathon_report_form_2019
If you own a local business, sponsoring a team or individual could generate good publicity. Or your business could sponsor every team at a certain rate. This encourages more people to participate, knowing they already have their first sponsor. Beyond raising funds for Hesthavn, more people may feel they have a personal stake in Hesthavn's success and, more broadly, in wildlife and nature conservation.
ASC Birdathon Official Sponsor Form