Homer Campbell's Legacy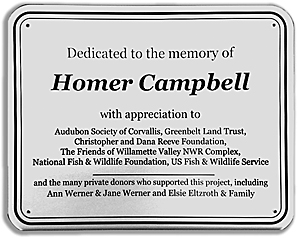 "I love how the boardwalk invites us to enter the ash swale, slow down and walk quietly through the forest, listen for woodpeckers, touch the lichen, and sneak into the blind to watch ducks, eagles, herons, cormorants, and even white pelicans rest and rejuvenate in Cabell Marsh. It is a perfect place to give thanks for all those who have come before us, like Homer, who cared deeply for our natural world and worked to ensure that some of it is protected."
– Ann Werner
The Homer Campbell Memorial Trail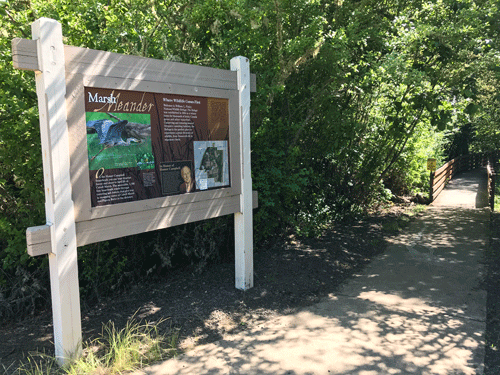 In 2006, ASC joined William L. Finley National Wildlife Refuge, Friends of Willamette Valley Refuges, and Greenbelt Land Trust to create a boardwalk trail and observation blind in memory of life-long valley resident, scientist, ASC chapter leader, Chat editor, and legendary environmentalist – Homer J. Campbell. The wildlife refuge that he loved is 12 miles south of Corvallis and contains some of the last remaining unchanged Willamette Valley prairie, as well as several other habitat types representative of this area. Its location near four metropolitan areas makes it readily available to hundreds of thousands of people. It is a very popular site for birding, wildlife studies, and environmental education.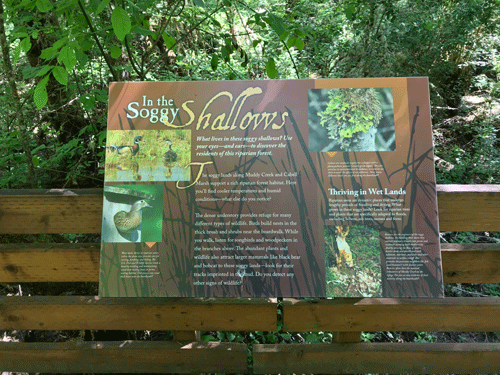 The trail begins at a paved parking lot off Finley Refuge Road near the Muddy Creek bridge. The approximately 1,700-foot (one way) boardwalk trail winds through deciduous riparian forest habitat in the Muddy Creek flood plain. Oregon ash and big-leaf maple are the dominant tree species, providing canopy for many songbirds, including thrushes, bushtits, and juncos. The boardwalk travels south to Cabell Marsh, which is outstanding waterfowl habitat. While most refuge trails are closed from November through March to protect wintering Dusky Canada Geese, the Homer Campbell Memorial Trail is open year-round. It is also the first wheelchair accessible trail on the refuge. The observation blind overlooking Cabell Marsh at the end of the boardwalk was completed in September of 2008.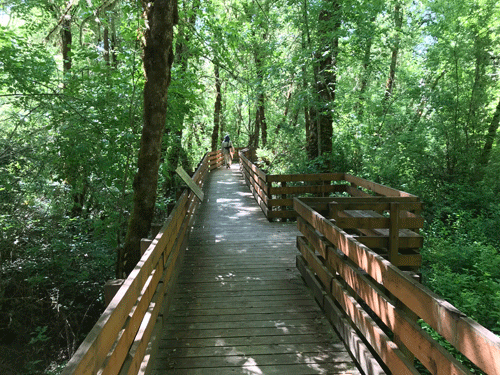 The boardwalk meanders above a seasonal wetland forest of ash and maple, protecting it and the feet of visitors. Look carefully for the bright orange-bellied rough-skinned newts which are common in wetlands.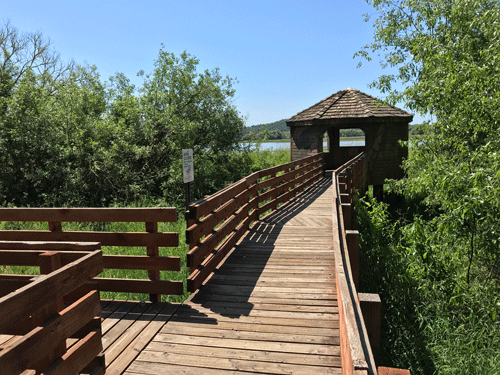 The boardwalk extension on the left was completed in 2009 and allows access to Cabell Marsh from April 1 through October 31. The rest of the year, that part of the trail is closed to protect over-wintering waterfowl. but wildlife viewing from the blind is available all year.
Homer Campbell Environmental Award
About the Award
The Homer Campbell ASC Environmental Award, established in 2005, recognizes a local (Linn, Benton, Lincoln & Polk counties) individual or organization who has made significant contributions in the areas of environmental stewardship, awareness, and outreach. Contributions worthy of recognition might include, but are not limited to:
promotion of environmentally sustainable practices
leadership on local environmental issues
classroom education of environmental stewardship
habitat restoration or preservation
Both long-standing and short-term significant contributions are considered in even-numbered years for this award. A committee from ASC will recommend one of the nominees for approval by the entire Board. The selected awardee will then be recognized at the April ASC General Meeting and presented with an engraved plaque. The awardee's name will also be added to a permanent plaque at Hesthavn Nature Center.
Nomination Process
Nominations should consist of a letter that describes how the actions or activities of the nominee fit the criteria described above. Nominations should include contact information for both the nominee and the nominator and will be accepted until January 31st. Email submissions may be sent to Karan Fairchild (alderspr(at)peak.org); or Dave Mellinger (dmell3.14159r(at)gmail.com).
US post office mail submissions should be addressed to:
ASC
PO Box 148
Corvallis OR 97339
ATTN: HC Award Committee