Bluebird Trail
The ASC Bluebird Trail is a special project of the Audubon Society of Corvallis (ASC) started in 1976. The mission  is to promote the conservation of the Western Bluebird (Sialia mexicana) and other native cavity-nesters through field work, and scientific studies. Hundreds of bluebird nest boxes are monitored on public and private property at dozens of sites in Benton and neighboring counties. This project has resulted in a dramatic increase in the Western Bluebird population, which was severely threatened in 1976.
Why a Bluebird Trail?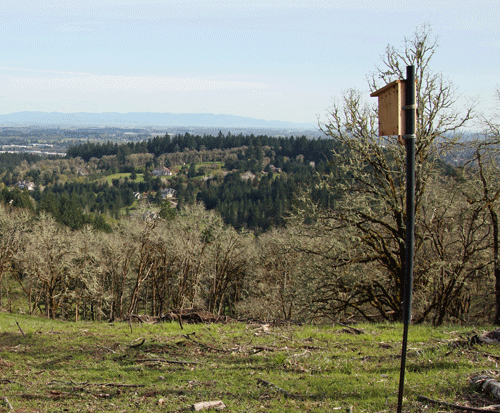 Elsie Eltzroth created the Bluebird Trail in 1976 by establishing a group of nest boxes (the "trail") for bluebirds in the Corvallis area. Her observations helped define the social and nesting behavior of the Western Bluebird. By providing safe nesting sites and monitoring nest success, bluebird population numbers are increasing. We want to continue that trend and insure that a healthy population size is maintained. If you have appropriate habitat for bluebirds but have been unable to attract or maintain them on your property, we will be happy to help with site selection, mounting nest boxes, predator control, accommodating other species, monitoring, etc. In return, please call us when you have nesting bluebirds. We will visit the nesting box to count the eggs and judge the approximate hatching date.
More about Elsie Eltzroth
Nest Boxes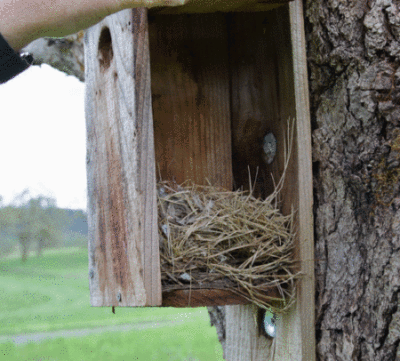 The entry hole of the nest box must be 1½" in diameter which will admit bluebirds and also native cavity-nesting birds such as swallows, chickadees, nuthatches, and wrens. Rough up the inside walls of the box to allow bluebirds to cling to the side. Place the nest box on a pole in a large, open area with short grasses and scattered perches. Face any direction except north and within 100 yards of a large tree. Place the box in a quiet area away from feeders or too much brush. Prevent predators such as raccoons and cats from climbing the pole by placing a baffle below the box or installing stiff, sheet aluminum around the pole. Predator-resistant nest boxes are available or the original box can be retrofitted to prevent crows, jays, and kestrels from plucking out nestlings.
About Nest Boxes       Building a Nest Box       Anti-raccoon Plans
Monitoring Nest Boxes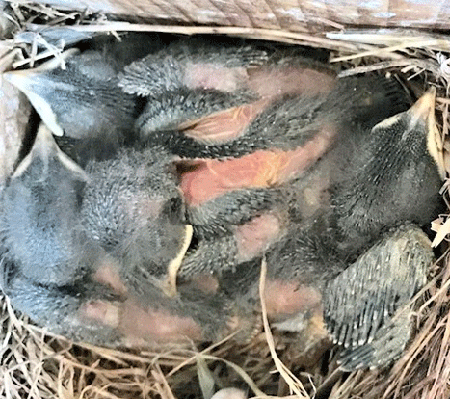 February/March: Check for dead bluebirds (some boxes are used as roosts during severe weather). Clean out any mouse nests, wasps, etc. to ready boxes for birds.
Mid-June: Remove any weather-stripping over vents, and make sure the ventilation holes are not plugged by insects or other material.
June/July: Clean out boxes that other species have finished using, so bluebirds have an opportunity for a second brood if their first one failed.
July: When young are in the nest box and temperatures are expected to rise above 90 degrees F for 3 or more days, shade it from late afternoon sun with cardboard or other material.
Early August: Look for that sweet surprise, a third brood!
September/October: Before the rains begin, clean boxes that were not scraped out earlier. Plug holes, caulk any splitting panels, and put weather-stripping over vents to keep out wind and rain.
Monitors Needed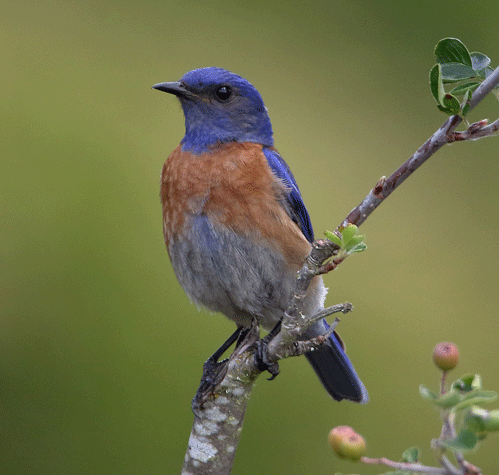 Volunteers and new nest box locations are needed every year. Records of nesting success are submitted to the US Geological Survey, North American Bluebird Society, Western Bird Banding Association, and other interested organizations. Here's how you can help:
Become a monitor.
Offer a possible location.
Attend our annual Spring or Fall Workshops for more information.
Observe bluebirds from March 1 – June 30. See Bluebird Sightings below.
Report deformed beaks in bluebirds and other birds. Contact Colleen Handel. at cmhandel@usgs.gov. Provide photos if possible.
Contact Rita Snyder: rsnyder14(at)msn.com
Bluebird Sightings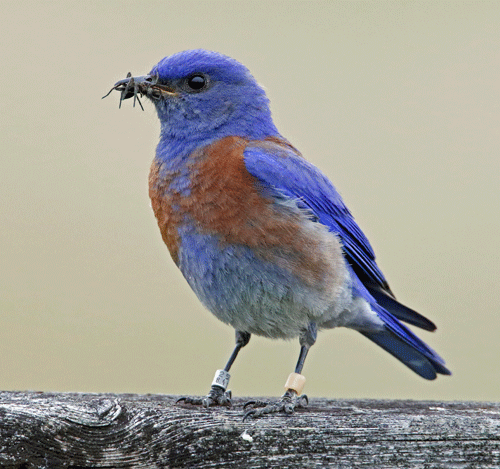 In 2010 we began a study about the survival and longevity of Western Bluebirds in the Mid-Willamette Valley. In order to reach a meaningful conclusion, we need reports of as many sightings as possible. If you see an adult bluebird with colored bands on its legs, try to determine which colors are present, on which leg and in which position.
Download the Bluebird Sightings Form.
Tidbits from Atop the Nest Box
How Acorns Killed Western Bluebirds
From an Audubon Society of Corvallis member –
"I planted germinating white oak acorns to help restore oak savannah habitat and placed blue plastic conical tubes over them to protect the seedlings and used netting provided by the manufacturer over the tops.
We see these used often for nursery trees, grapes and other plants. To my shock I discovered banded dead Western Bluebirds inside several of the tubes where the netting was missing! According to Elsie Eltzroth they may have seen insects inside and dropped down but couldn't climb or fly out. Apparently this is not an uncommon tragedy.
Perhaps we can alert people who use these 3-5" tubes to be aware of this problem. It can be corrected and the manufacturers should be warned of this problem.
In trying to help our environment, many hazards have been unwittingly added to the habitat used by small birds. Though other birds may be attracted to green or yellow tubes where insects may be found, the color blue is especially attractive to bluebirds since it is "their" color. We should remind you that Western Bluebirds inspect nest boxes, open vents from a house or shed, stove pipes and chimneys that lack a perforated cover, and all other likely looking holes in which to roost in winter.  — Bill Pearcy & Elsie Eltzroth
More Resources
There are many bluebird resources, both websites and books, that provide in-depth information for people interested in helping bluebirds and other native cavity-nesters survive and thrive. One comprehensive site is Sialis, named for the genus of the three bluebird species in North America: Western, Mountain, and Eastern. This site includes general information, identification, predators and parasites, feeding, nest boxes, factsheets, short courses, and more. Another excellent bluebird site is Cornell Lab of Ornithology, which covers species guides, biology, feeding, news and features, and more. Links are provided to these sites for current information.
Western Bluebird monitoring data from 2009 – 2019