Education and Outreach
Inspired by Birds!
Almost everybody loves birds, but most are unaware that birds do amazing things! Flying for instance, made possible with adaptations like hollow bones, massive chest muscles to power the wings, and feathers for balance and steering. They also need big brains to support keen eyesight and rapid reflexes. The ASC Education and Outreach Team is always thrilled to introduce a new audience to the wonders of birds. The Team reached approximately 4,000 community members during the 2018 -19 school year, with events such as Winter Wildlife Field Day, Schools and Group presentations, special events held at Hesthavn Nature Center, and partner programs.
Winter Wildlife Field Day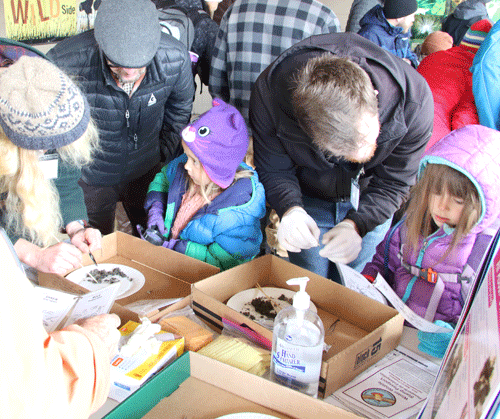 The Fifth Annual Winter Wildlife Field Day at Finley National Wildlife Refuge in March 2019 was a huge success with over 700 participants and 137 volunteers! The theme was local predators, which was echoed in all 12 stations, including identifying water and soil critters, acting like a bobcat, enjoying live birds of prey, learning about camouflage, taking guided trail walks, and more. Education Team members have played critical roles in developing and operating this popular event. Planning for 2020 starts in October. Contact Sam Bartling at Finley National Wildlife Refuge ( (541) 757-7236) to volunteer or get more information.
School and Groups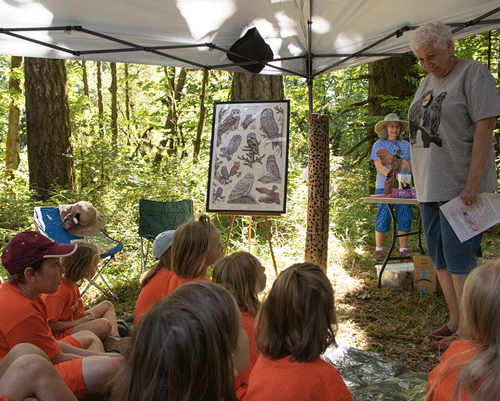 For more than 30 years, Education Team volunteers have provided interpretive programs for schoolchildren. We have developed traveling programs and exhibits that are fun, interactive, and educational, such as Measure Your Wingspan and Compare It to Local Birds. Other programs include How Birds Fly, What Can I Eat with This Beak?, How Do Bats and Birds Differ, Birds as Pollinators, games like Predator vs. Prey Tag and Migration Madness, and more! ASC volunteers bring exhibits and activities to schools or other places on request, Groups such as Girl and Boy Scouts, nature clubs, and home schools may also request an activity. We love to share at Science Nights at local schools! Contact Teri Engbring (enbring(at)hotmail.com) at least one month in advance to schedule a visit!
Special Nature Events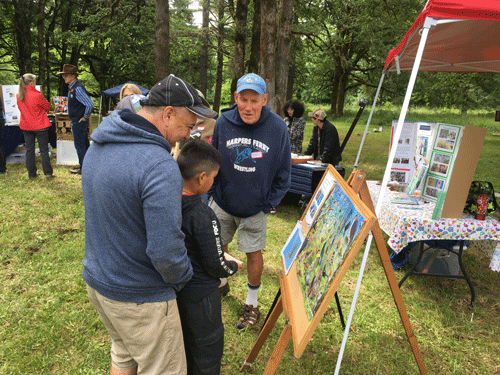 Education Team members also provide fun and interesting activities to environmental groups and the general public. From September 2018 to September 2019, ASC has staffed outreach activities including Hesthavn family programs, Girl Scout camps, Corvallis Sustainability Fair, Oregon State University Earth Day, Get Outdoors Day at Peavy Arboretum, Chintimini Open House, and more.
Classes – Birding by Ear 2019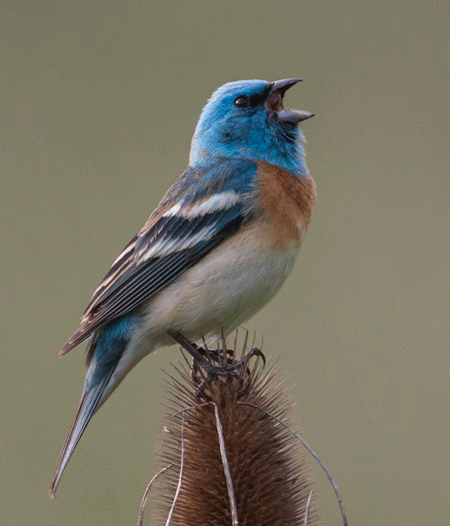 Lisa Millbank and Don Boucher teach "Birding by Ear" through their Neighborhood Naturalist program in May and June. This class will take your birding ability to the next level, especially in forested areas where birds are difficult to see. During the classroom sessions, you don't memorize lists of bird sounds; instead, you learn methods to help remember bird sounds and get a basic understanding of bird communication. It's intended to be fun and interesting. Classroom sessions feature lots of videos and sound clips. During the field trips, all of which are in the Corvallis-Albany area, there will be listening exercises and many opportunities to practice the techniques learned in class. You'll be amazed by how many birds you'll find by just listening. You should already be familiar with common local birds to take this class.
Classes are usually held several times per year. Contact Don Boucher at donaboucher@gmail.com.
Hesthavn Nature Center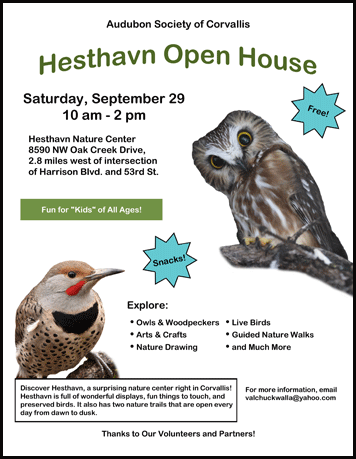 The Nature Center started life as a barn, and now it offers a museum with taxidermied birds, library, exhibits, and a classroom. Oak Creek flows through the property near the Center, and there are short trails, and a native plant garden. The Nature Center is staffed for special events, so check the website and watch for event flyers. The trails and garden are open from dawn to dusk everyday. Admission is free!