Education Partners
Partnerships are a win-win for everyone. Through a network of local partners, Audubon Society of Corvallis is engaging more people in the community and helping them to appreciate the importance of protecting the environment. Inviting partners to special events, such as the Winter Wildlife Field Day, is very popular with participants as they get to choose from more than a dozen stations linked to the same general theme. In addition, the event brings increased media coverage and the resulting free publicity brings more visitors. Win-win!
OSU Bird Nerds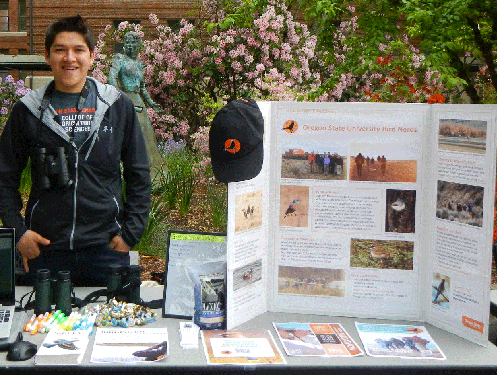 OSU Bird Nerds is a student-run ornithological club at Oregon State University in Corvallis. Their mission is to provide OSU students with an opportunity to learn more about the amazing world of birds through bird-related activities, résumé-building experiences, speakers from the ornithological community, species identification workshops, and field trips. The Bird Nerds share the knowledge gained from these activities with the Corvallis birding community via volunteer, education, and conservation involvement.
For winter term 2020, the Bird Nerds will be hosting weekly seminars with a wide variety of bird scientists on Wednesdays at 5 pm via Zoom presentations. See website for schedule of speakers.
Website
Chintimini Wildlife Center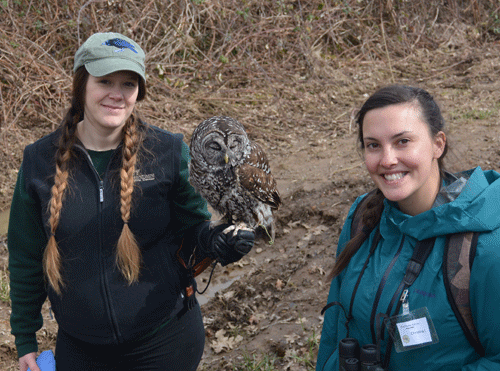 Everyone gets excited when they hear that live birds are part of an education program. Chintimini Wildlife Center provides care for injured and orphaned wildlife, with the goal of returning them to their natural habitat. The birds used in education programs are called Wildlife Ambassadors. These wild birds have been rehabilitated but are not releasable because they are unable to survive in the wild. The individual birds are different from year to year, and not all birds are used in every program. Birds, like people, need time off from their work!
Other Raptor Ambassadors from Chintimini have included a Bald Eagle, Red-tailed Hawk, Swainson's Hawk, Great Horned Owl, Barn Owl, Turkey Vulture, and American Kestrel.
Friends of the Willamette Valley National Wildlife Refuge Complex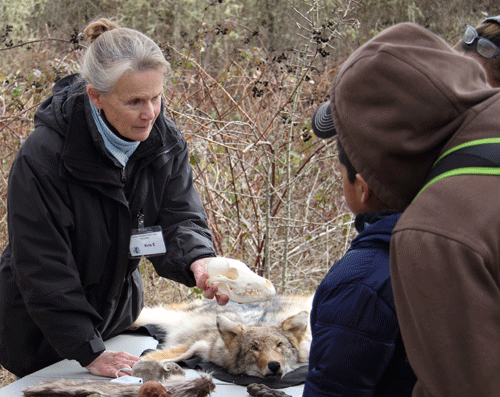 Saying "The Friends of the Willamette Valley National Wildlife Refuge Complex" is quite a mouthful! Their nickname is FWVNWRC, but it is easier to call them "Friends." The all-volunteer organization supports the USFWS national wildlife refuges in the Willamette Valley. Members care about the refuges as natural resources and work to protect them. Objectives include habitat restoration, environmental education, community outreach, and more! The Wild Goose Nature Store is operated by the Friends and is open most weekends at Finley NWR Headquarters.
Oregon State Extension Service of Benton County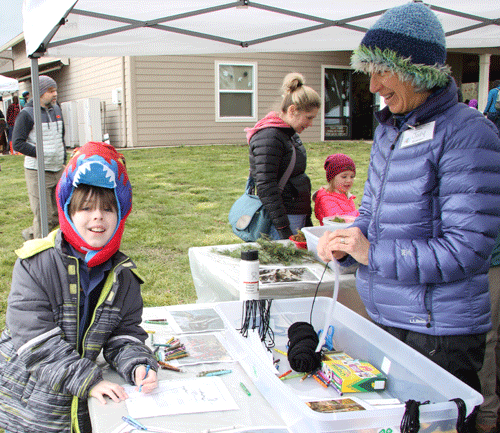 Oregon State University Extension is a handy resource for the expertise and knowledge every Oregonian needs to live healthy lives, nurture our great state's ecosystems, and play a vital role in Oregon's vibrant communities. They partner with people in every county and help them thrive every day — just as they have done for more than 100 years. Their mission is to engage Oregonians with research-based knowledge and education that strengthen communities and economies, sustain natural resources, and promote healthy families and individuals.
William H. Finley National Wildlife Refuge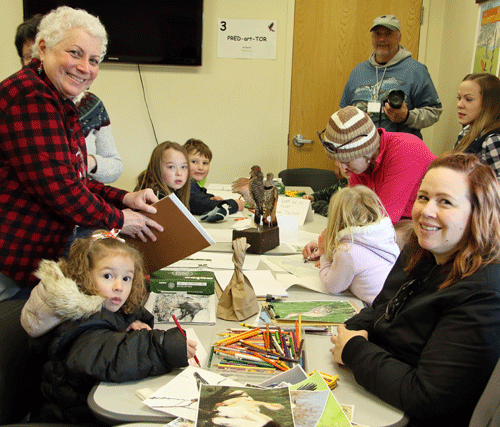 The Finley NWR is a hotspot for a diverse array of wildlife and plants. Over 200 species of birds are present year-round or for winter, nesting, or migration stopovers, which reflects the great diversity of habitats. Finley NWR has hosted the Winter Wildlife Field Day since it began in 2015. They introduced bilingual stations, added bilingual speakers, and arranged bus service for families from Corvallis.

Neighborhood Naturalist
The Neighborhood Naturalist teaches people in the Willamette Valley region of Oregon about exciting natural experiences just outside their window. Activities include Third Sunday of the Month 3-hour field trips and nature classes, plus posts about what's new, resource links, and quarterly newsletters. Birding by Ear classes are taught in May and June and feature classroom sessions and field trips. Dates are coming soon!
4-H OSU Extension
4-H empowers young people with hands-on learning experiences. They create a safe and welcoming environment so they develop the skills needed to make a positive impact on the world around them.
Benton County Soil and Water Conservation District
Benton SWCD is one of 45 conservation districts in Oregon working to put conservation efforts on the ground. The results include cleaner water, improved crop land, pastures, forests, and restored wildlife habitat.
Marys River Watershed
Marys River Watershed Council supports restoration projects around the Marys River watershed to provide benefits for fish, wildlife, and all who live downstream. One-third of Corvallis drinking water and all of the Philomath water supply are provided by Marys River and its tributaries.
Community Health Centers of Benton and Linn Counties
Community Health Centers of Benton and Linn Counties provide a medical home that promotes and supports health and wellness. Coordinating community partnerships provides a broader range of services.
OSU Fisheries and Wildlife Club
The F&W Club is nonprofit student group focuses on skill building, networking with professionals, practical application of field techniques, public outreach, and expanding current knowledge professionally and with the public.
Starker Forests
Starker Forests manage the forest throughout its entire life cycle and provide the mammal pelts, skulls and other bones For Winter Wildlife.