Birding Resources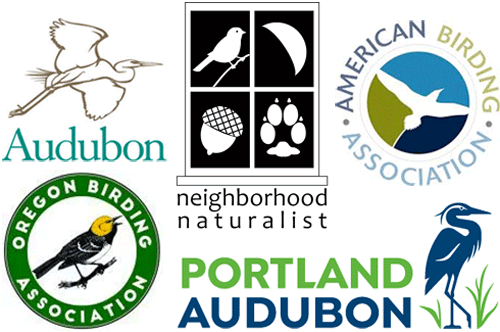 Birding trails in all US States and Canada, clubs and organizations, gear guide, travel, birding news, blog, podcast
Species checklists, birding trails, birding locations by Oregon county, maps of Fern Ridge and Luckiamute, field trips, monthly photo contest
Originally set up to report bird observations in ASC's service area, so it would be good for ASC to take advantage of this! Reports for the current month or any other particular month (example is June 2019, change month and year for your query)
Place for nature lovers in the mid-Willamette Valley to share their field observations, including local plants, fungi, mammals, birds, invertebrates, reptiles, amphibians, fish, geology, climate and more. Identification questions are welcome.
Birding guides and apps, travel destinations, binocular and spotting scope guides, flyways, conservation, projects, and magazine
Spring arrival dates for migrating birds, birding links, nature store, Oregon-wide birding spots, and education programs
Sightings on the Mid-Valley Nature Forum, scheduled field trips, classes like Birding by Ear, resource lists of wildlife rehabilitation, field guides, phone apps, websites, and naturalist organizations
Locations of bird sightings around the world, zero in on hotspots, share sightings, and track your lists, sounds, and photos. To generate an up-to-date list of the most recent sightings of any species in either Linn or Benton County:
Listen, download, and explore bird sound recordings from around the world, share recordings, help identify mystery calls, participate in forums
Audio spectrograms, or song pictures, compared for five pairs of similar-sounding birds you might encounter locally – some birds not found in western U.S.
Not just birds but butterflies are also sentinel species for habitat degradation similar to the canary in a coal mine. The website is "both an online guide to Oregon's butterfly species and a record" of the author's determination to photograph all of Oregon's butterfly species inside the state boundaries.